Harry Potter And The Goblet Of Fire adalah 2005 komputer dan video game yang dirilis tepat sebelum rilis film Harry Potter dan Piala Api . Baik permainan dan film didasarkan pada JK Rowling 's Harry Potter dan Piala Api , novel keempat dalam Harry Potter seri.
Permainan mengikuti tiga karakter utama film ini - yaitu Harry Potter , Hermione Granger , dan Ron Weasley - dan ada sistem mantra-casting sama sekali baru yang memungkinkan untuk mantra kolaboratif. Karakter sendiri lebih mirip rekan-rekan film mereka daripada di pertandingan sebelumnya. Ini juga memiliki grafis berkualitas tinggi dari sebelumnya Harry Potter video game. Namun, bermain game dalam video game keempat jauh lebih berorientasi aksi, yang merupakan perubahan dari permainan sebelumnya.
Selain itu, pemain dapat bermain dengan teman-teman, dan dapat menggabungkan sihir dan mantra mereka untuk membuat mereka lebih kuat. Pemain juga dapat menangkap kacang bergerak menggunakan Accio dan meningkatkan kekuatan mereka dengan kolektor, makhluk, dan karakter, kartu.
Tidak ada RPG iterasi dari permainan, tidak seperti dengan judul sebelumnya. Selain itu, hal itu menunjukkan bahwa tidak seperti cicilan sebelumnya, tidak ada banyak ruang untuk "berjalan di sekitar" seperti dalam pertandingan sebelumnya di mana Anda diizinkan untuk bergerak bebas di dalam kastil dan dengan alasan.
SCREENSHOT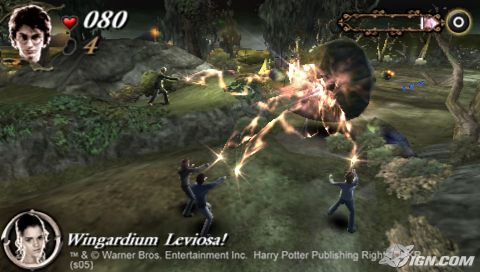 Minimum System Requirements:
CPU: Pentium III 1.2 GHz or Athlon equivalent
RAM: 256MB RAM
VGA: Video card with 32 MB or more memory and one of these chipsets is required:
ATI Radeon 7500 or greater
NVIDIA GeForce or greater
OS: Windows 2000/XP
HDD: 1.2 GB or more free space
ODD: 8x or faster CD/DVD drive
Recommended peripheral: Keyboard or DirectX 9.0c compatible gamepad
Installation
extract file, buka foldernya, next klik 2x setup.bat, tunggu prosesnya sampai selesai, mainkan.
DOWNLOAD THIS GAME IN 2 PART
PART 1 IN HERE
PART 2 IN HERE